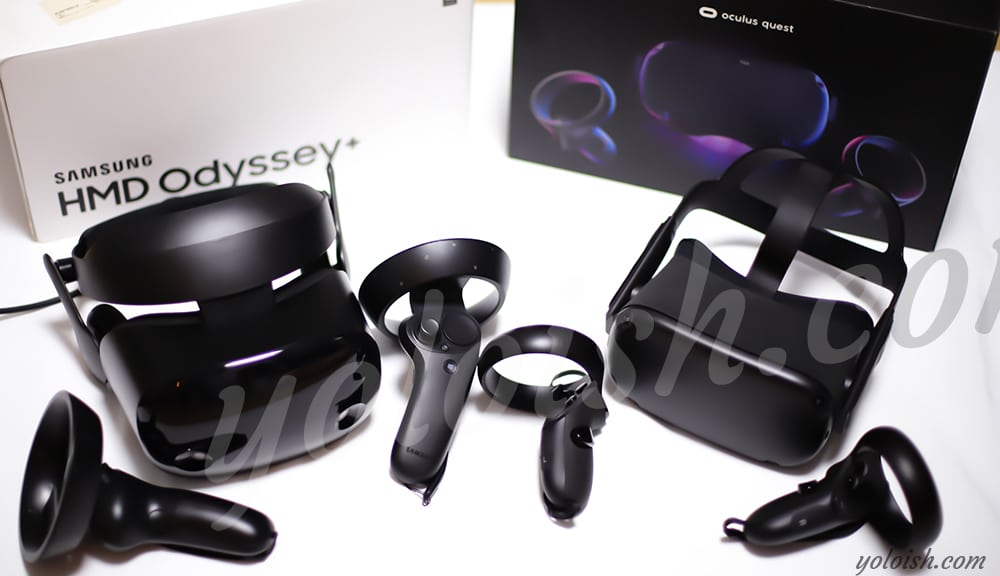 Smart Home
Oculus Quest and Samsung Odyssey+ Review
My First and Second VR Device : Samsung Odyssey+ and Oculus Quest
In the movie "Ready Player One", the story unfolds in a virtual reality world where the protagonist can do whatever he wants. Watching this movie, I was more immersed in the fact that it could be the technology of the upcoming future rather than just a story in the imaginary world.
Oculus Quest, which I will introduce today, is also one of the virtual reality (VR) game devices.
The first VR device I bought for the first time, after using HTC VIVE and being attracted to the immersion and realism of VR devices, was "Samsung Odyssey+". Compare to the low price ($299.99 at that time) the simple line composition and gridless resolution were literally great for cost performance and it was also great for watching movies. I even bought two to play with my boyfriend
When playing videos with the Odyssey+, it's not uncomfortable because there's no movement, but when playing games like Beatsaver or Fallout, the lines sometimes get awkward. This was when Oculus Quest release had a month left. The simplicity of being completely wireless and without connecting to the PC was really great and that's  why I bought the Oculus Quest.
Waiting for the delivery of the recently released Oculus Quest 2 (in the middle of customs clearance :D), I took out Oculus Quest after a long time.
Oculus Quest Design / Appearance
Oculus Quest is lighter and smaller than Odyssey+ because it is a portable device. When I saw it at the first time, the casual design and the velcroed strap made me think that "Seriously? Is this really $399?" Of course the controllers are also lighter and smaller than Odyssey+ and provides a better grip. It feels like an expensive toys
Turn on the device and follow the guide to install and I recommend that you install the Oculus app on your phone in advance. If the controller is not recognized automatically try to change the battery or pairing directly.
In the last step, you must update your headset to use hand-tracking function.
After updating you can use hand tracking function by changing Hand Tracking "ON". You can find it at the following location.
Settings ▶ Device
Now, when you put the controllers on the floor, it automatically activates and I was a little disappointed as I expected accurate and smooth feedback. To select something, you have to make a pinch gesture with your thumb and forefinger but after releasing your hand it may remain selected or you may not be able to select.
Still, it is one of the interesting features without expecting it
First of all, If I compare based on Beatsaver, a game that has both Oculus and Odyssey+ and I feel that Odyssey+ is better in terms of performance itself.
In fact, both devices have a resolution of 1440 x 1600(per each) by specification. However, when I played a game, it felt like that the pixel size was a bit larger than Odyssey+ and in the case of Oculus Quest, I saw a little grid pattern. The speed played steadily without lag. It seems to have been well optimized.
The choice depends on whether you want to use it at home or portable. Odyssey+ is a little better for performance and quality personally but it also has the strength of Oculus Quest which shows considerable quality completely wireless without connecting PC to play.
Especially, the Quest is more convenient to play comfortably with family and friends. Because of this convenience, I use Oculus Quest more often. And I am looking forward to Oculus Quest 2.
Next, I'll post the review of Quest 2 and the comparison post with Quest.